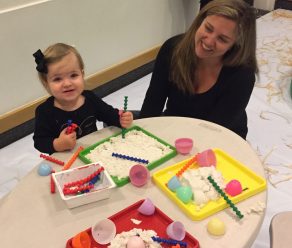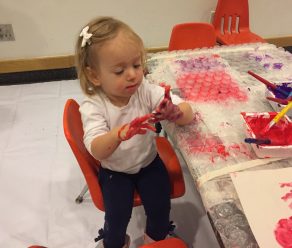 ---
Parent & Me Classes – Fall 2017
Our classes provide a wonderful way to form a special bond with your child and to connect with other families. They are designed for your child to develop a sense of self, oral language skills, basic cognitive concepts, sensory motor skills, and creative self – expression through play, art, and music.
MUSICAL INFANT AND ME * – age: newborn – 12 mos. – Thurs., 11:30 – 12:30
Deepen your bond with your infant through this exciting class. Morah Sari and Morah Kira will lead participants in music and movement activities designed to expand connection and attachment. An interactive discussion about development and parenting will be integrated during this hour. This class will also provide a wonderful opportunity for you to collaborate and form bonds with other parents of infants. 8-class session: October 19, 26; November 2, 16, 30; December 7, 14, 21 TBA Members:  $176; Non-Members $200
To register for Musical Infant and Me, click here.
CELEBRATE SHABBAT WITH ME! *– age: 1 year and up – Friday, 9:15– 10:15– FULL
Come together with other families to welcome Shabbat!  This class includes special Shabbat and Jewish holiday-themed stories, songs, art experiences and activities, Shabbat blessings and snacks.  Parenting discussions, independent play and social time for the children are other components of this popular and fun class. 8-class session:  October 20, 27; November 3, 17; December 1, 8, 15, 22 TBA Members:  $176; Non-Members $200
MUSIC AND MASTERPIECES — age: 16 months and above – Wednesdays 9:00-11:00
Morah Sari will introduce children and parents to multiple dimensions of art, the artistic process, and a variety of art media and techniques in order to create their own "masterpieces".  Morah Kira will lead a musical exploration as children dance, sing, celebrate, and play.  Together, Morah Sari and Morah Kira will immerse you in a unique, artistic, musical environment. 33-class sessions September 13th-May 30th; $1650.
To register for Music and Masterpieces, click here.
Are you interested in the Pressman Academy Early Childhood Center?
For tours or information, please contact the admission office at 310-652-7354, ext. 227 or eccadmissions@pressmanacademy.org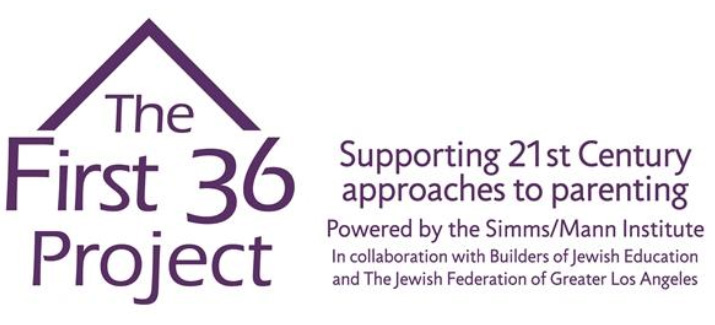 *Our Early Childhood Center is participating in The First 36 Project, a pilot program designed to incorporate 21st Century approaches to Parenting.
---