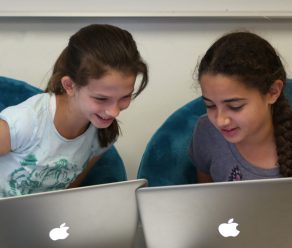 ---
Middle School
Pressman Academy's Middle School administration and faculty encourage and embrace practices that challenge students to consider, explore, and think deeply about themselves and the world around them. We are committed to fostering the wellbeing and engagement of all students. Our programs enhance our students' confidence and sense of self while also helping them to be change agents in our world.
Our Middle School program provides a rigorous and engaging learning environment where every child is known and appreciated for his or her strengths. Through research-based curricula, students develop the academic and critical thinking skills needed to succeed in High School. Through their core studies (Hebrew, Humanities, Math, Rabbinics, Science and TaNaKH), an engaging advisory program and thoughtful Life Skills class, athletics, leadership opportunities, musical theater and community service, our students' brains, hearts and values are nurtured and grown.
Our Middle School students move on to High School well-prepared for the academic, social and emotional challenges they will face while rooted in community and values. We also recognize that middle school is a journey, not a destination. From the time students enter sixth grade until they graduate eighth grade and move onto high school, the data points of information, test scores and performance inform our instruction but we never lose sight of preparing our students with the necessary skills to become resilient, ethical, and motivated learners rooted in their Jewish values.