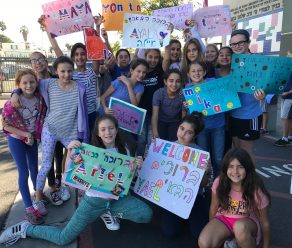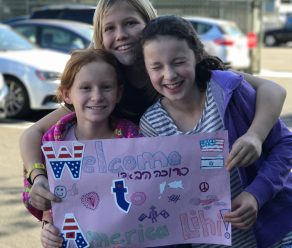 ---
Pressman-Magen Israel Partnership
Pressman Academy is proud to be partnered with the Magen School in Tel Aviv as part of the larger Tel Aviv – Los Angeles Twinning Program, sponsored in part by the Jewish Federation Council of Greater Los Angeles. The Magen School is located in the Maoz Aviv section of Tel Aviv. Magen is a Part of the Tali Public School System in Israel, Magen is a grade 1 through 6 school. Approximately 450 students attend the Magen School. The Magen School is very much a community school and the culture of the school is an excellent match to that of Pressman Academy.
Our relationship with the Magen School in Tel Aviv, which has been nurtured over the past two decades, is an important part of our Judaic studies curriculum. Curricular exchanges start in the first grade and continue through the eighth grade. The exchanges vary from both schools sending personal greetings for Rosh Ha-Shanah to the fourth grade exchange which is a joint Tzedakah project. The highlight takes place in the sixth grade when each school sends a delegation of students, teachers, and parents for a two-week visit. Every project, starting with the first grade, is prefaced with the idea that we are connecting with our friends in Israel, and one day we will get the chance to meet. While the exchange students are here in the fall, they have ambassador visits to all the classrooms, which helps to build up the anticipation for the sixth grade exchange.
The goals of the Tel-Aviv-Los Angeles Partnership of the Jewish Federation are to:
Deepen, expand and intensify relationships between Israeli and American Jews, based on reciprocity and person-to-person connections, leading to greater understanding of each other.
Deepen Jewish identity and a sense of Jewish people-hood in both communities.
Strengthen interdependent ties between our communities and impact community life.
Strengthen and enrich sponsoring institutions through their involvement with Partnership.
Maintain the partnership as a long-term, evolving process of Jewish life.
Motivate and mobilize influential people in both communities.
Establish activities that position Tel Aviv and Los Angeles as a model of excellence to other communities.
Our participation in the School Twinning Program allows us to bring to life everything our students learn about Israel. By experiencing Israel personally, our students take what they have learned from pages of a text or reels of a film and synthesize it all into a life experience. By having the opportunity to communicate with Israelis, to live with an Israeli family, and celebrate Israel's national holidays with kids their own age, they forge bonds with their Israeli friends, for which years of learning have prepared them.